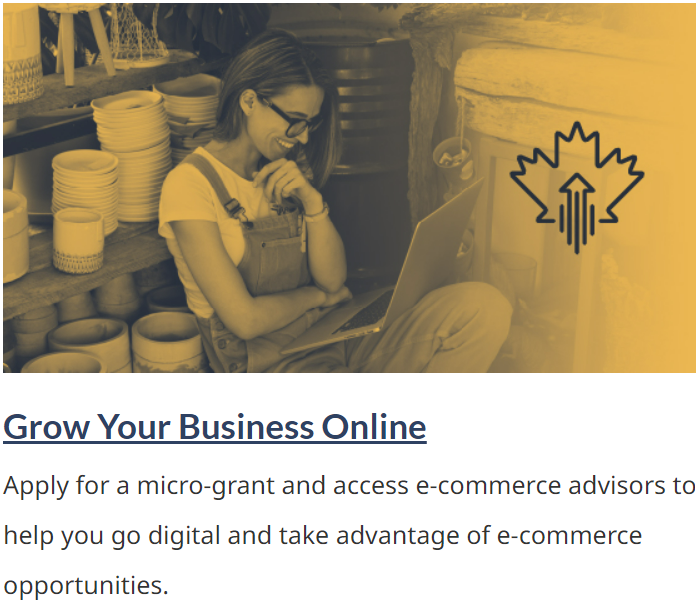 What is CDAP?
The Canada Digital Adoption Program (CDAP) is a federal grant for Canadian businesses and entrepreneurs looking to sell products online, start an e-commerce brand or digitally transform a brick-and-mortar store or service. Eligible entrepreneurs, startups or small and medium enterprises (SMEs) can receive strategic funding to adopt digital technologies and will be paired with a digital or e-commerce advisor to help plan and implement the digital strategy.
CDAP grants are split into two streams – Grow Your Business Online and Boost Your Business Technology – based on the annual revenue of your business. But note that all e-commerce businesses fall squarely within the Grow Your Business Online stream. The two streams are discussed in detail below.
Annual Revenue Less Than $500,000
Grant amount:
Up to $2,400
Who can apply:
Your business must meet ALL criteria to be eligible for this grant.
Annual revenue less than $500,000
Be a registered or incorporated, for-profit business

Be consumer-facing (B2C)

Have 1+ employee (other than the owner)
Commit to a 6-month digital strategy adoption period
Consent to follow-up surveys and publishing of your business name as a recipient of funding
Description:
The Grow Your Business Online grant is the best fit for entrepreneurs, start-ups or small businesses with annual revenues below $500,000 or businesses looking to sell consumer products online. If eligible, your business will receive up to $2,400 to fund the costs of setting up or optimizing e-commerce opportunities or adopting digital technologies.
This micro-grant is offered by the Government of Canada through the Innovation, Science and Economic Development (ISED) division. It will seek to help up to 90,000 small businesses to attract more customers in the digital marketplace and to serve existing customers more effectively through digital media.
Additional to the grant, you will gain access to digital advisors who specialize in e-commerce, social media, digital marketing or other technologies. They will be your guide through the digital strategy implementation over the six-month adoption period.
You can apply online at https://ised-isde.canada.ca/site/canada-digital-adoption-program/en/grow-your-business-online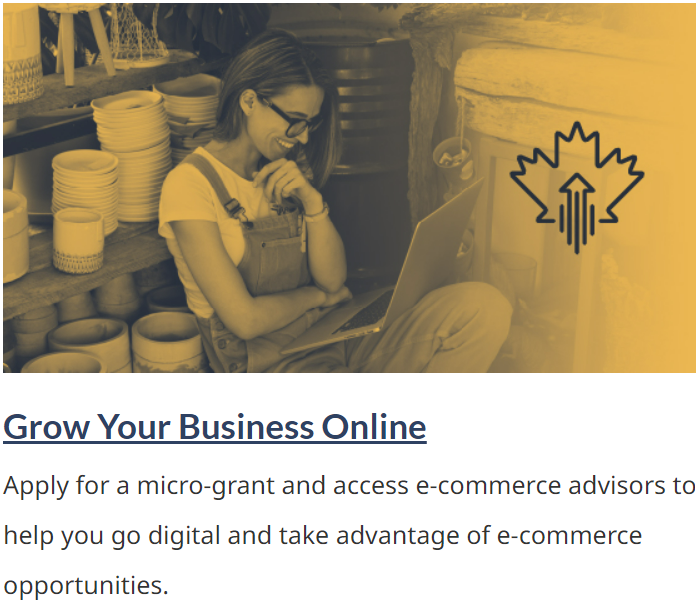 Annual Revenue between $500,000 and $100,000,000
Grant amount:
Up to $15,000 – to cover up to 90% of the service cost to hire a dedicated digital advisor
Up to $100,000 loan at 0% interest with 5 year amortization
Up to $7,300 wage subsidy to hire talent through funded work placement
Who can apply:
Your business must meet ALL criteria to be eligible for this grant.
Annual revenue between $500,000 and $100,000,000 in one of the previous three tax years

Be incorporated provincially or federally, or be a Canadian resident sole proprietor

Be a for-profit, privately owned business
Have between 1 – 499 full time equivalent (FTE) employees
Meet BDC creditworthiness requirements to obtain financing
Description:
The Boost Your Business Technology grant is tailored for small and medium enterprises (SMEs) with annual revenues above $500,000 and up to $100,000,000.
As a more holistic grant, there are multiple opportunities to obtain funding through this program. The first step is to engage a digital advisor to conduct a Digital Needs Assessment (DNA) and create a customized digital adoption plan for your business. The CDAP will cover up to 90% of the costs of engaging the digital advisor with a maximum grant of $15,000.
With the completed DNA and a proposed budget for your digital transformation, you can apply for the 0% interest loan from the Business Development Bank of Canada (BDC). The loan term is based on your digital adoption plan to a maximum of six years (5-year term plus 12-month capital postponement) with no interest and no fees. Businesses with annual revenue between $500,000 and $5,000,000 are capped at $50,000 loan, while those above $5,000,000 revenue can request up to $100,000.
Finally, when implementing your digital adoption plan, you are encouraged to hire talent through funded work placements. This gives you access to students and alumni from post-secondary and graduate programs with the newest and most advanced experience in their respective digital technology fields.
You can apply online at https://ised-isde.canada.ca/site/canada-digital-adoption-program/en/boost-your-business-technology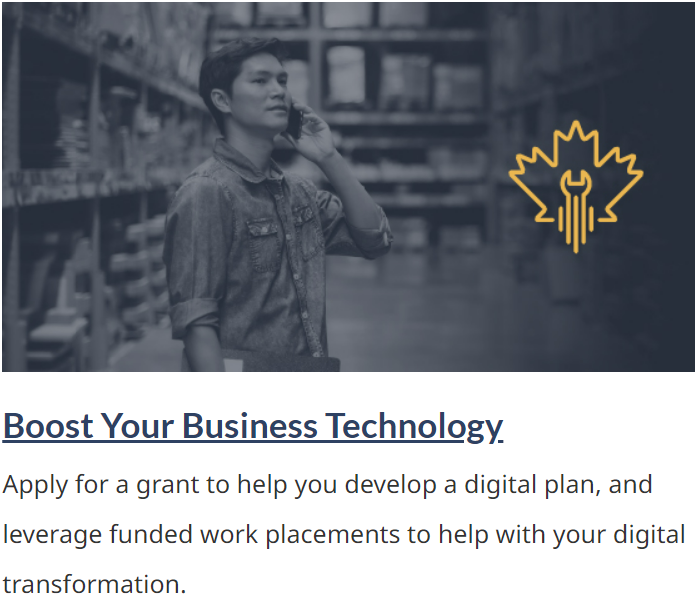 Who Cannot Apply
Since the CDAP is targeted to boosting the entrepreneurship and SME economy, there are certain business models that are excluded from the grant:
Corporate chains, franchises or registered charities
Multi-level marketing companies
Real estate brokerages
Dropshipping or online reselling companies or businesses that rely on third-party suppliers
Wholesale or distribution businesses and manufacturers
If you fall within one of these categories, don't lose hope! Make sure to book a call with us so we can learn more about your specific business and find suitable financing opportunities for you!
What Should You Do Next
Send us a message or book a FREE consultation to learn more about the CDAP opportunity – we will happily walk you through the funding scenarios and digital strategy that makes the most sense for your unique business.
Learn more about the CDAP and check your eligibility at the https://ised-isde.canada.ca/site/canada-digital-adoption-program/en
This article was last updated 2022-09-14.
Information in this article is intended for informative purposes only. The original source can be found at the ISED website: https://ised-isde.canada.ca/site/canada-digital-adoption-program/en
In case of any discrepancy between this article and the ISED website, the ISED website contains the latest and most accurate information.